Main Content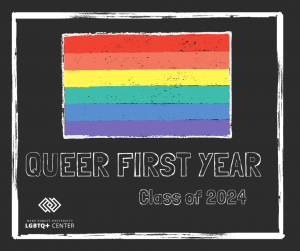 We are so excited that you have chosen to become a Demon Deacon!
It's probably safe to say that this fall isn't quite the start to your college experience that you were anticipating. It's not what we were planning either! But don't worry – we have a plan to keep everyone safe AND welcome you to campus, in person or virtually! Below, we've rounded up some of your common questions. Read on, and reach out if you have other things on your mind!
So, what exactly is the LGBTQ+ Center?
We're so glad you asked! The LGBTQ+ Center is both a welcoming lounge space (your living room away from home!) and an office of professional staff who are here to provide you with support, advocacy, education, and resources!
I want to visit the LGBTQ+ Center. Can I do that?
Yes! The lounge space will look a little different this fall due to social distancing, but starting August 24th, we'll have open hours every morning from 10am-12pm. Tuesday and Thursday mornings are drop-in times just for first-year students! The lounge space will also be reservable in the afternoons – to join the reservation pool, fill out this form. The LGBTQ+ Center is in Benson University Center, Suite 311!
I really want to meet other LGBTQ students at Wake. How do I find them?
Come check out our fall programming! We offer Identity Space groups for students who share a common identity, as well as weekly Q-nections gatherings facilitated by our student staff! AND, we have special programming just for our first-year students, Queer First Year! Fill out the Queer First Year interest form to get updates about our programming and learn more!
I'm trans and would like some assistance in sharing my name and pronouns with my professors. Can you help?
Yes! Check out the trans@wfu tab on our website for information about resources on campus, including our Faculty Notification form. You can also schedule an appointment to chat with AJ or Kayla about your specific situation and get resources and support.
I really want to talk to someone, but I'm not ready to walk into the LGBTQ+ Center. Is that okay?
Totally. We get it; walking through that door can be scary! Just send us an email at lgbtq@nullwfu.edu, and we'll schedule you an appointment over Zoom or by phone.
How do I make sure I know about upcoming programs and events?
The best way to keep up to date with our programs is to sign up for our weekly newsletter, the Rainbow Roundup. You can also follow us on Facebook and Twitter, and we even have a GroupMe for LGBTQ+ students on campus! Go ahead and join and say hello!
Hopefully, by now you're convinced that the LGBTQ+ Center sounds awesome! 
If you want to hear more from us, including details about Queer First Year info sessions and our Big Queer Virtual Welcome event on September 2nd, make sure you sign up for our email list and fill out the Queer First Year interest form! And if you want to ask questions about anything we didn't answer, just reach out to us at our emails below!
Again, we're so glad that you're here, and we can't wait to meet you!