Main Content
Admitted Student? Learn more about us here!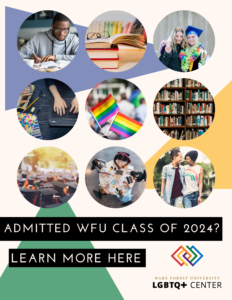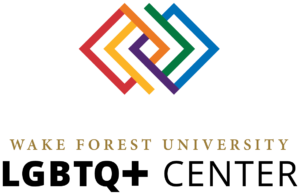 Welcome! The LGBTQ Center is here to provide education, advocacy, and support to members of the Wake Forest community and is committed to fostering a safe, equitable, and inclusive experience for all students. The LGBTQ Center is the campus location where students, faculty, staff, and alumni connect for resources, services, education, leadership programs, and more related to gender identity and sexual orientation. We offer a number of ongoing programs and educational opportunities, as well as special events, throughout the year, and we maintain a student lounge space in Benson 311. Drop in and hang out with us.
LGBTQ Events
In need of some queer moral support as you finish up those classwork assignments? Join us in our virtual LGBTQ+ Study Space on Google ...

Drop in between 1:00 and 2:00 pm every day to hang out with LGBTQ+ Center staff - no agenda, no need to stay the whole time, just a ...

QTPOC Connections is an identity space hosted by the LGBTQ+ Center specifically for queer and trans students of color to connect and be ...
See full calendar