Beginning in 2018, each October, the LGBTQ+ Center recognizes and celebrates Queer History Month (QHM). For us, QHM reflects upon and learns from the past while also uplifting the idea that we are constantly creating our own histories as individuals, collectives, and communities. Plus, June, which is celebrated as Pride month, is a tough time to come together in community since it is during the summer!
During Queer History Month, we invite partners from across campus and the community to develop and present their own unique programs and opportunities that engage with LGBTQ+ identities, narratives, communities, and histories and craft a calendar to advertise the numerous offerings available throughout the month.
The LGBTQ+ Center is currently accepting programs for this year's Queer History Month at WFU. We will be recognizing and celebrating Queer History Month 2023 during the month of October with the theme "Dreams of the Future" and invite campus and community partners to submit their programs and events for inclusion on the calendar. 
This theme aims to highlight the amazing work that is being and has been done to make the world a more inclusive place for future generations of queer and trans folks.
Organizations. departments, and individuals can submit programs to be included on the 2023 Queer History Month calendar using this form. Please include as much detail as possible in the submission for your program or initiative. The submission period will be open through Friday, September 22.
We look forward to your submission and please don't hesitate to reach out to lgbtq@wfu.edu with any questions.
---
Previous Queer History Months at WFU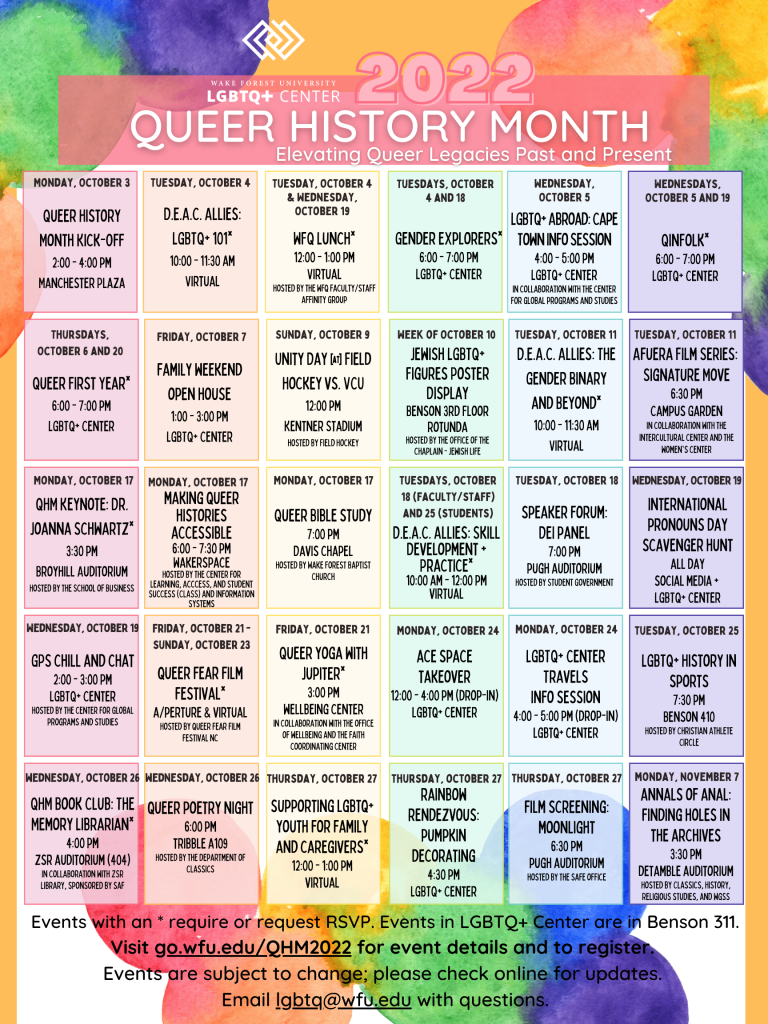 Queer History Month 2022 Event Archive