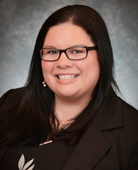 Kayla Lisenby-Denson
Director
Master of Business Administration, Wake Forest University
They/Them/Their
Benson 311
336.758.4917
lisenbks@wfu.edu
Kayla (they/them/theirs) serves as the Director for the LGBTQ+ Center. They have been a part of the Wake Forest community since 2015 when they joined the LGBTQ+ Center as the Program Coordinator. They then served as Assistant Director, then Associate Director of the LGBTQ+ Center. In February 2022 they moved to our central Office of Diversity and Inclusion to work with the RIDE framework and elevating inclusive practice throughout the institution, then returned to serve in the Interim Director role in August 2022. Kayla is deeply committed to the work of the LGBTQ+ Center and advancing the reach and capacity of the Center across the five focus areas of education, advocacy, support, community building, and personal and professional development.
They are a 2021 graduate of the WFU MBA program and bring their depth of knowledge on organizational culture, diversity, inclusion, and equity, and change management to their work with the LGBTQ+ Center. Prior to working at WFU, Kayla served as the Coordinator for LGBT Programs in the Office of Multicultural Student Affairs at the University of South Carolina. They hold a Master's degree in Higher Education and Student Affairs from the University of South Carolina and a Bachelor's degree in Anthropology from the University of Alabama.
Outside of work, Kayla enjoys spending time with their wife and dogs, traveling to locations both near and far, and diving into a variety of hobbies including crafting, writing, and learning new things.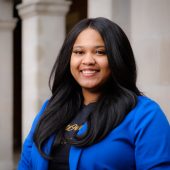 Antayzha Wiseman
Assistant Director
She/Her/Hers
Benson 311
336.758.4053
wisea17@wfu.edu
Antayzha (she/her/hers) serves as the Assistant Director for the LGBTQ+ Center. Prior to beginning in this role in April 2023, she served as the Program Coordinator for the LGBTQ+ Center and Women's Center beginning in November 2021. She earned her B.A. in History from Wake Forest, where she served as a student assistant in the LGBTQ+ Center and a campus-wide advocate for inclusion.
Antayzha was raised in Lenoir, North Carolina and has a passion for developing and supporting intersectional programming and equitable practices.