Main Content
Staff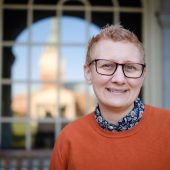 Dr. AJ Mazaris
Director, LGBTQ+ Center, and Assistant Vice President for Equitable Policy, Office of Diversity and Inclusion
Benson 311
336.758.4665
mazarise@wfu.edu
Dr. AJ Mazaris (they/them/theirs) is the founding director of the LGBTQ+ Center at Wake Forest University, where they also teach in the Department of Women's, Gender, and Sexuality Studies. Dr. Mazaris serves as part of the university's Diversity and Inclusion Leadership Team, and is committed to creating an institution that welcomes, supports, and engages everyone to their fullest potential. Dr. Mazaris has a Ph.D. in American Studies from Brown University in Providence, R.I., where they were honored to hold a Jacob Javits Fellowship from the U.S. Department of Education. Their teaching and research focus on LGBTQ history, queer theory, public history, and gender studies. At Brown they served as the first Coordinator of the LGBTQ Resource Center, and as Graduate Proctor at the Sarah Doyle Women's Center. They were also a member of Brown's Diversity Advisory Board, where they worked specifically on issues related to first-generation students and social class. While in Providence, they served on the board of the Equity Action Fund, Rhode Island's fund for LGBTQ initiatives. Before coming to Wake Forest, Dr. Mazaris served as a Presidential Management Fellow at the Internal Revenue Service and the National Park Service.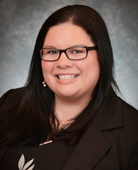 Kayla Lisenby-Denson
Assistant Director
Benson 311
336.758.8178
lisenbks@wfu.edu
Kayla (they/them/theirs) serves as the Assistant Director for the LGBTQ+ Center, where they promote the Center's commitments to education, support, and advocacy around issues of sexual orientation and gender identity through developing programming, educational opportunities, and student engagement experiences. Kayla is also currently an MBA student at Wake Forest University and received their Master's degree in Higher Education and Student Affairs from the University of South Carolina in May 2013 and their Bachelor's degree in Anthropology from the University of Alabama in May 2011. They joined the Wake Forest University community in the summer of 2015 as the Program Coordinator for the LGBTQ Center. Prior to working at WFU, Kayla served as the Coordinator for LGBT Programs in the Office of Multicultural Student Affairs at the University of South Carolina, where they worked with the Safe Zone education program, coordinated a peer leadership program, and maintained support and advocacy services for students across the institution.