Main Content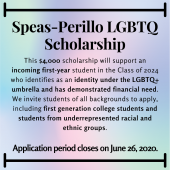 The Wake Forest University LGBTQ+ Center is excited to announce the Speas-Perillo LGBTQ Scholarship. This $4,000 scholarship will support an incoming first-year student in the Class of 2024 who identifies as an identity under the LGBTQ+ umbrella and has demonstrated financial need. We invite students of all backgrounds to apply, including first generation college students and students from underrepresented racial and ethnic groups.
To apply, please download and complete the application form: Speas-Perillo Scholarship Application. All applications must be received by Friday, June 26th, at 12pm ET.
If you have any questions about the application process, please contact Lowell Tillett (tilletlt@nullwfu.edu) in the Office of Admissions. If you'd like to learn more about the LGBTQ+ Center and other resources on campus for LGBTQ+ students, please reach out to Dr. Angela Mazaris at mazarise@nullwfu.edu.